1.
The Saint Sardos church in Laurenque
This church is a Roman church that was already mentioned in 1153 when it became dependent on the monastry of Sarlat.
It consisted originally of a single nave with three bays, the middle one being surmounted by a vaulted bell tower with a dome. The decoration of the capitals and arches is made up of symbolic elements or elements taken from the Old Testament. The church is open for visits in the summer and on request at the town hall during the rest of the year.
2.
The resistance house in Tourliac
This place refers to the local resistance duing the Second World War, and in particular to the massacre of July the 14th, 1944. That day, the resistance fighters had planned to parade in Villeréal. They had installed themselves in this farm in Tourliac, on the Lot-et-Garonne / Dordogne border. Part of the group helped the peasants to harvest and another part took part in the parade. When there were only a dozen resistance fighters left, the militiamen went to the farm and executed the resistance fighters.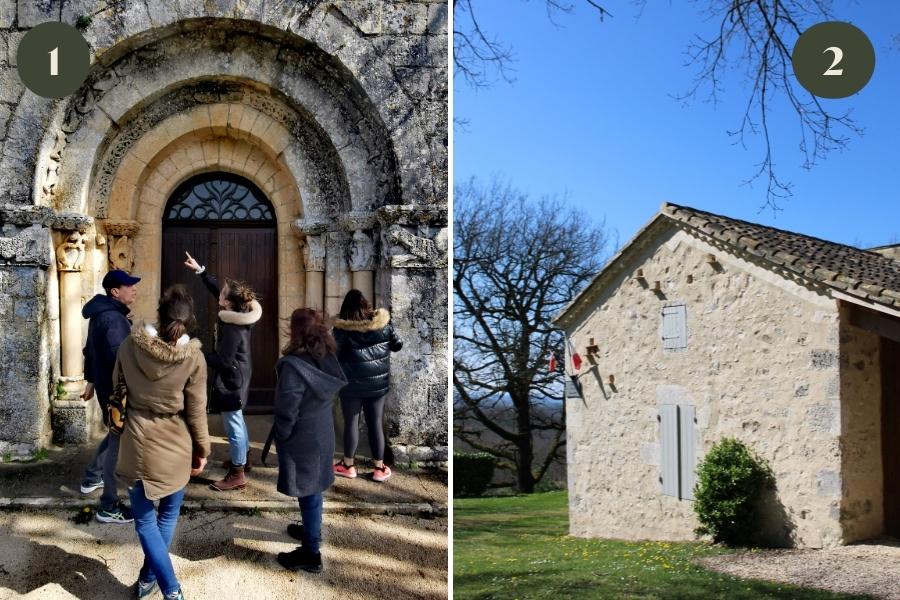 3.
The windmill of Beaugas - Mill of the three mills
This mill, built between 1752 and 1800, is located in the hills, north of the Lot, in the heart of the department. It belonged to the same family for four generations. The mill is open every day in May because of the flowering of the irises and especially on May 17th and 18th because of the Country and Mill Heritage Days. The mill is also open in September during the European Heritage Days Outside these periods the site remains visible from the outside and opens only on demand.
4.
The church Marie-Madeleine in Bournel
A small village is grouped around this church, dating from the 11th and 12th century. It is a beautiful, regular construction of white limestone with a stone bell tower with wooden boardings. It is listed as a historic monument. Admire the beautiful house opposite the church from the 15th and 16th century that used to be a school.