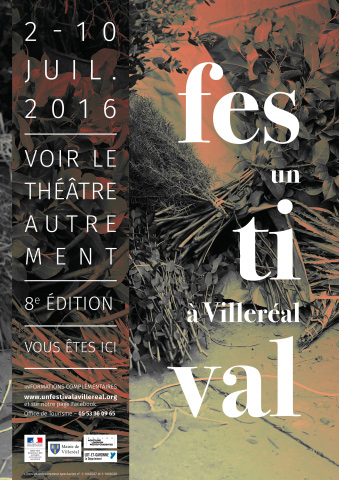 Hi Samuel, how did you arrive in Coeur de Bastides ?
My father was born in Villeneuve Sur Lot and my parents bought a house in Montaut just before my birth. I grew up in Paris's suburbs, and spent most of my holidays here in Lot-et-Garonne. As the time went by, I realized that I was not happy in a big city. I decided to settle here and developed my professional life in the area.
Have you always wanted to be an actor ?
Not at all! When I was a child, I wanted to be an astrophysicist… I was 16 or 17 years old when I discovered my passion for literature and drama. After my A levels, I joined the Vth arrondissement Conservatoire (Paris), where I prepared myself for national competitions. Finally, I was accepted in the Higher National Conservatoire of Drama Art in Paris. It's an exceptional and professional drama school where I learnt this job's secrets and I met a lot of new friends. By the way, I created the festival "Un festival à Villeréal" with them.
What about this festival ?
The first edition was organized in 2009, with success. After having represented many plays in the village hall, we wanted to get off the beaten tracks, to explore new places in the area, to play everywhere : in the gardens, in the houses… That's why the 2nd edition has been called "See the village differently" ("Voir le village autrement").
Why did you choose Villeréal for your festival ?
It's a personal choice, I love this village! I think that's a very lively town, but of course, I like the others! We are lucky to have a real quality of life, with a lot of associations.
I am fond of strolling along hiking paths around Villeréal and Montaut, as "Le chemin des crêtes". Nature is rich and preserved here. I dreamt of an event such as our festival since 15 years.
Why "Un festival à Villeréal" is different from the others ?
As time went by, we wanted to change the event, in order not to only propose shows : our aim was the integration of the festival in the local life. From this point forward, the artists come in the village during 6 weeks, they entertain and create a unique show for the place. This is what we call a creative festival.
Is the initiative supported by the inhabitants ?
Yes, we feel very much supported by the inhabitants here. But we know that there are also people who don't like us! The event's integration is still fragile, but that is precisely this research of balance between our artistic proposal and the relationship with the village which is important for us. Most of the artists are hosted by some inhabitants, and we also ask for help about the scenery, the outfits, the accessories… Actually, this festival is organized with the local population. Moreover, it's an opportunity for the village to live something special before the tourists' arrival.
What is your best memory in Coeur de Bastides ?
Without any doubt, the 2010 edition! It was a totally crazy project, created with not much money. The meeting between artists and inhabitants has been a great moment, people really enjoyed! Someone even told me : "you don't seem to be conscious of what you do for the village", I was very happy!
Some people, who did not know each other very much, laughed together about the plays : it's a small thing but it shows that the festival can move the mental boundaries of daily life, and maybe bring people closer.